Cyber Cafés
Cyber cafés are now a prominent fixture of trade shows and corporate events. Are you taking advantage of this digital-age opportunity to promote future events and engage potential sponsors and advertisers? With hundreds or thousands of attendees likely to visit your Cyber Café, you can't afford to miss this targeted marketing opportunity and additional revenue possibility.

Let TRC help you with our innovative Cyber Café solutions. We supply and install both the hardware and software technology you need for a successful Cyber Café.
(Click for details on what we offer)
Computer Kiosk System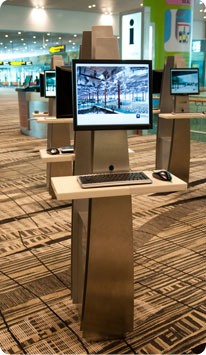 Do you want to take your event to the next level? Then, let TRC help you plan a Computer Kiosk System. Whether you are looking to include digital signage, a self-service information center, a trade show display and product locator, or an internet kiosk, TRC offers you customizable kiosk solutions to best meet your needs.

Our Kiosks allow you to…
Conduct customer satisfaction surveys
Interact with attendees by providing interactive Q & A platforms
Set up internet cafés with minimal space requirements
Entertain attendees with a games and entertainment area
Provide up-to-date event information, schedules, floor maps
Gather attendee data quickly and easily
Offer attendees an easy way to access email and voicemail
Offer advertising opportunity and space to exhibitors
Provide demos of new products
TRC's Computer Kiosk System rental is affordable, and the kiosks are stylish, require minimal space, and are easy to use. Our Kiosk System is tailor-made to fit your needs and has a self-serve format, which means you don't need any additional staff to run one. We pre-format each system with all your requirements and deliver it to your event ready to plug in and go. TRC's dedicated team is on hand to support you throughout your event.

Want to find out more about renting a Computer Kiosk System for your next event? Click here to submit an information request.