Data Services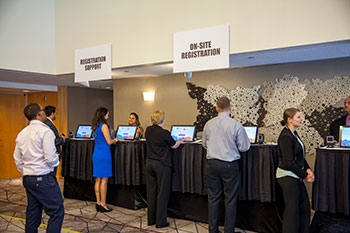 Use data from your previous events to maximize future business opportunities and increase exhibitor and attendee rate of return. At TRC, we understand that information including exhibitor leads data, attendee traffic data, and survey results are paramount considerations when planning for a future successful event. Our comprehensive suite of Attendance Management Services and Software products, developed specifically for the corporate event and trade show industry, are here to help you reach your business goals. We custom design all of our Attendance Management solutions from attendee promotions to data services ensuring that your distinct needs are met, so you can focus on planning a future event that is data-driven, profitable, and enjoyable.

TRC's Professional Convention Specialists are available 24/7 to help you identify which of our Attendance Management Services and Software Products best meet your needs and to assist you in delivery, set-up, and support during your event.

Want to find out more about our Attendance Management Services and Software Products? Click here to submit an information request.